How many VIZA songs exist? How many have been released since the band's inception? We were curious ourselves so we did a full count and found that, when you add up all of VIZA's albums, EPs, and singles, that quite amazingly, 83 is the current number. This doesn't include all the covers VIZA has released over the years and the most recent releases of "Yesterday" and "Ms. Information", which are in fact VIZA's 84th and 85th songs. So here the band goes, kicking off the 100 project! This will be a thrilling ride as the group continues to prepare for many more compositions slated for a continuous stream of releases over the coming months into 2023 and beyond, with a unique and interesting objective of hitting the 100 mark for total releases by VIZA.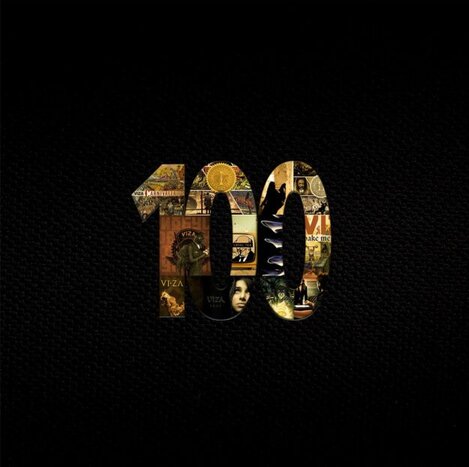 "I consider Maktub the official beginning of the band and the birth of our sound. I would've never guessed after all these years we are almost to 100 songs recorded but then again Maktub means 'all is written' in Arabic, so I shouldn't be surprised," said frontman K'noup.
"To complete 100 songs is quite the meaningful milestone," stated theoudplayer Andrew Kzirian. "We've had such a winding road and amazing experience with all our different records and the evolution of the band's sound – it's an important achievement to make it to the century mark, and even more meaningful to share it with our supporting and loving fan base – get ready for a lot of new music!" he added.
A brief examination of the historical record highlights the various albums, EPs and singles which led to this important juncture. First came the album Maktub in 2006 (11 tracks), the De Facto EP in 2007 (6 tracks), the album Eros in 2008 (15 tracks), followed by the band's first full length and groundbreaking rock themed record Made in Chernobyl in 2010 (11 tracks). 2011 was a busy time as the cover of Alabama Song (Whiskey Bar) was released, followed by the single Bake Me in Clouds in 2011, and the album Carnivalia in 2011 (12 tracks). With this new-found buzz and cutting edge material VIZA answered the overwhelming demand for considerable touring at various premier festivals and as direct support for Serj Tankian and Gogol Bordello, leading up to the band's big release of the album Aria in 2014 (12 tracks). Aria elevated the band to new heights which led to continued touring with Skindred and more headline touring in Europe. As part of a successful Kickstarter campaign, the band released the In Coins single in 2014, the Midnight Hour (Dingle Rock) single in 2014, the Fuego single in 2014, and the covers for When Doves Cry and Naïve Melody in 2014. After a brief hiatus, the group recorded and released the Unorthodox Revival I EP (6 tracks) and Unorthodox Revival II EP (6 tracks) both in 2018, followed by the Eros single in 2019 and the Loyal Tea single in 2020.
The recent release of the new single "Yesterday" kicked off the 100 project effort, presenting the listener with symbolic storytelling and compelling soundscapes, incorporating classic VIZA elements such as soft, sweet sections of spiritual singing set against folky, dancey grooves, juxtaposed with intensely passionate choruses where the music intensely transforms into a life of its own. And the societal parody "Ms. Information" was the band's scintillating follow up second track, exploring the heavy rock sensibility of the group along with a driving rhythm, lyrical poetry in the form of critical commentary about our world and captivating visual artwork.
This talented group of songwriters continues its hard work and is excited for the coming months where a substantial amount of new material will be shared with fans on a periodic monthly basis.
Yesterday, Ms. Information and all following releases of the 100 project will be available on all major streaming platforms for your listening pleasure and/or purchase.
Make sure to stay tuned for more information and updates as we continue our work!
VIZA IG: @vizamusic
VIZA FB: @vizamusic
VIZA Twitter: @vizamusic